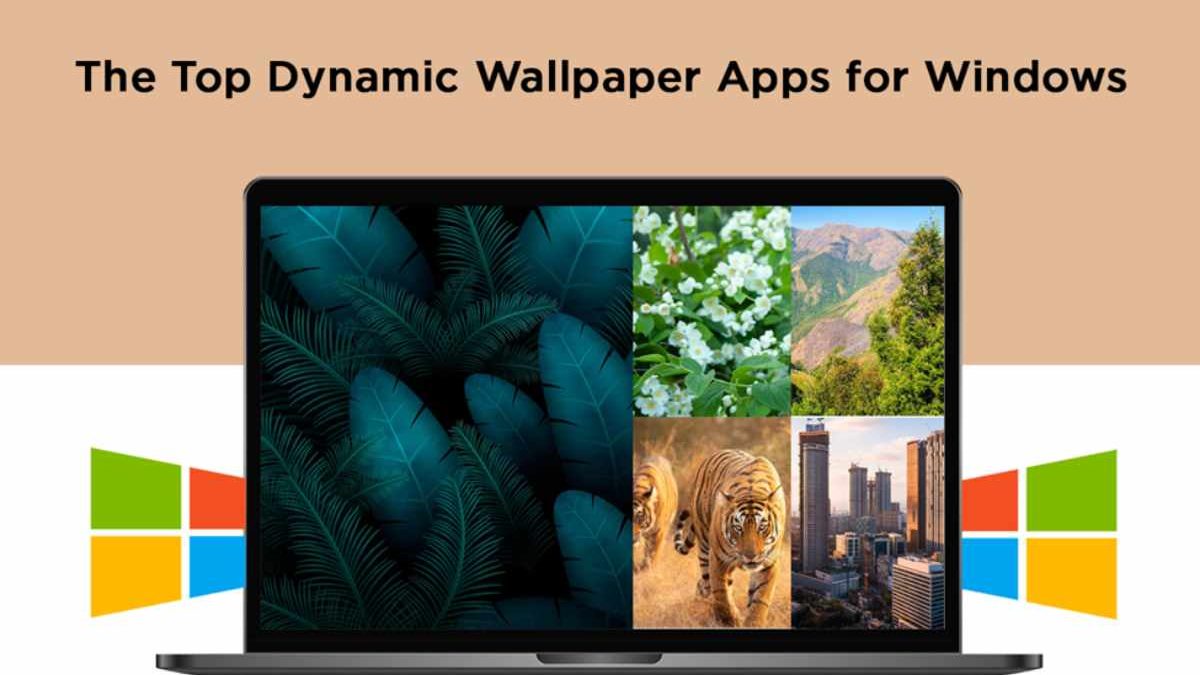 Windows have always embraced dynamic wallpapers to keep things fresh and offer users something attractive for their eyes. However, it was not until macOS Catalina that Apple finally entered the dynamic wallpaper Mac world.
This article focuses on the dynamic wallpaper apps for Windows that users can install to bring their computer screens alive. Some apps even allow users to create custom live wallpapers. Let's take a look.
Windows 10 Slideshow
Wary of using third-party apps or programs? No need to worry because you can use Windows 10 Slideshow. This is the native Windows option allowing users to create live wallpapers.
Choose different images in a folder and then set a time interval. So the pictures will keep changing in the background according to the chosen time interval. You can use your holiday pictures or anniversary ones.
DeskScapes
Set dynamic wallpapers and make your screen appear attractive using DeskScapes. The program lets users personalize and animate live wallpapers.
The program offers users a wide choice of animated wallpapers that they can use to customize their desktops. In addition, there are more than sixty special effects, including color effects. These effects are similar to Instagram filters and promise to add life to the images.
Furthermore, the program includes different aspect ratios, resolutions, and multi-monitor support. So you don't have to worry about the wallpapers not fitting your specific needs.
What's more, you ask? First, the program is user-friendly and intuitively designed to help you quickly change how your desktop looks.
RainWallpaper
RainWallpaper is a dynamic wallpaper application that users opt to customize their desktops with animated images and 2D live wallpapers. In addition, 3D live wallpapers are supported by the app, and you can use animated wallpapers and videos supporting mouse interactions.
Moreover, the app is lightweight and does not consume a lot of RAM and CPU. So if you use this app to set dynamic wallpapers, you needn't worry about your computer's performance. The app pauses the dynamic wallpaper to increase your device's performance during gaming or to run any full-screen applications.
An in-built wallpaper editor is a noteworthy feature of this app, and using this, you can create bespoke live wallpapers. For example, use static images from vacations, holidays, or random outings with friends and turn them into beautiful dynamic wallpapers.
The app is available for free, so you don't have to spend a dime on customizing your desktop.
Rainmeter
A lot of users opt for Rainmeter to add widgets and live wallpapers. This is a popular program to change the appearance of Windows computers and laptops. In addition, the tool includes informative widgets, such as live news and weather forecasts.
The tool allows users to select from thousands of different wallpapers and themes. Also, you can use videos as your desktop background. You can choose from your list of saved videos or download them from the Internet.
Another notable feature of the tool is adding animations to static images. You can also use part GIF as your desktop wallpaper. Moreover, the tool goes easy on a computer's hardware resources, including storage and memory.
WinDynamicDesktop
WinDynamicDesktop brings a massive collection of live wallpapers to help users deck up their desktops. The program also brings the Dynamic Desktop feature from the macOS Mojave to Windows computers. So you can set wallpaper and personalize it to change according to the time of the day. Therefore, you don't have to stare at the same wallpaper, but there will be different images serenading you.
WinDynamicDesktop uses the location information of the system to determine the time of the day. Then, it uses that information to change the wallpaper automatically. To set this, you must select a preferred theme and enter your location when you use the application for the first time. Then, the application will determine the time and continuously auto-change your desktop's wallpaper.
The app allows users to download themes from the Internet, and you can edit your videos or images to create new themes. Then, use them as the background wallpaper.
Push Wallpaper
Push Wallpaper is available for free, and Windows users can use this program to set dynamic wallpapers from a massive library of live wallpapers. The program offers executable files that you can install to set live, dynamic wallpapers. You can choose from both live and video wallpapers. You can choose any video you want.
You can also use animated GIFs and YouTube videos as the desktop background.
If your computer sits idle, the wallpapers also act as a screensaver. Furthermore, you can adjust the speed of the particles and such things in live wallpapers.
The Bottom Line
You can use these applications and tools to apply dynamic wallpapers on your desktop background. The live wallpapers will make your desktop appear attractive and personalized.